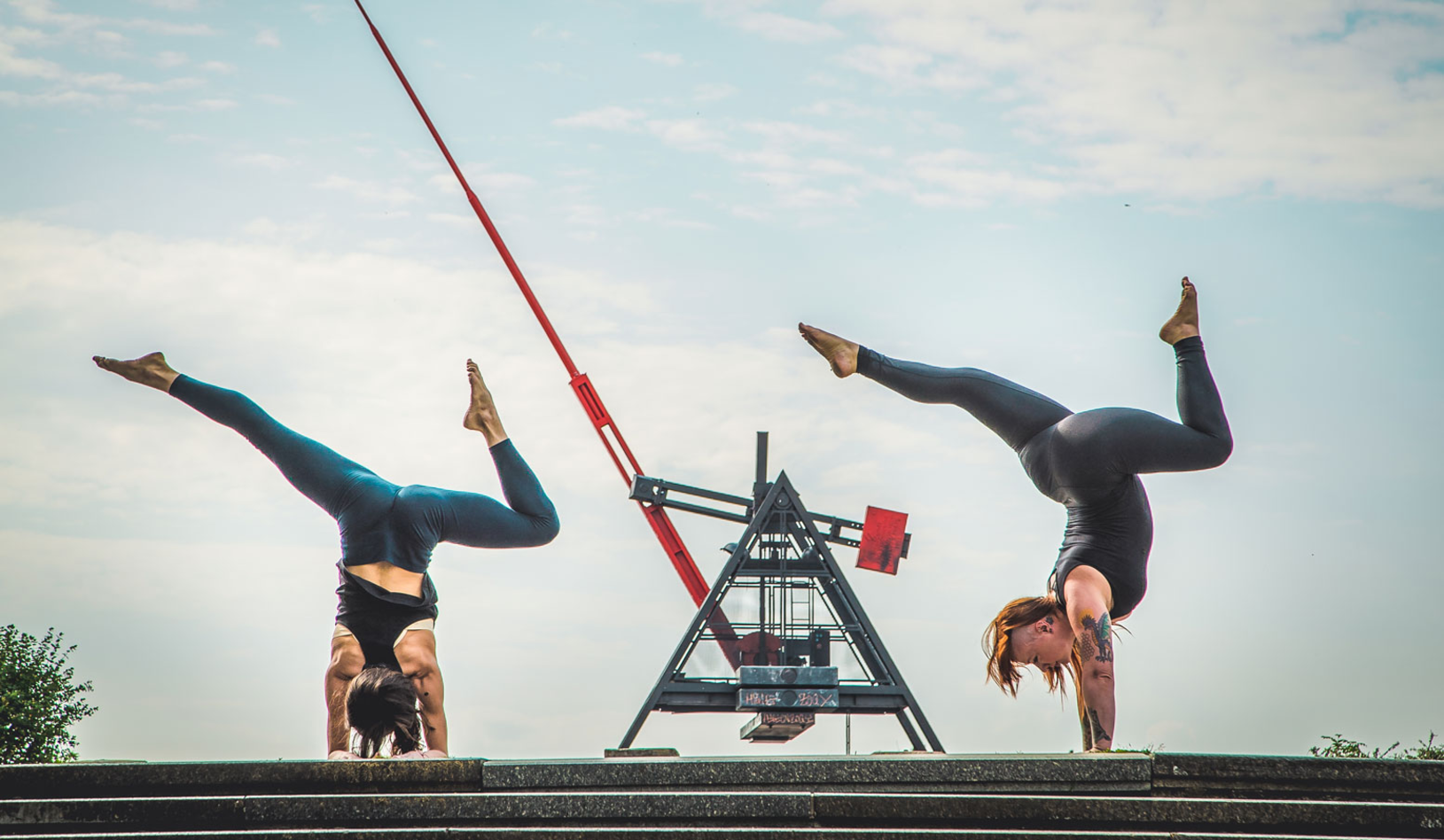 Where we started: Prague Yoga Collective
A small, refurbished space above a Crossfit Gym isn't the likeliest origin story setting for a yoga studio. But it was here that Prague Yoga Collective was born.
Originally founded by Betti and Lisa, Alex eventually joined the team to form the trifecta that is PYC today. Through studio classes, as well as donation classes and free yoga in the park, our Prague yoga community took root and began to grow.
But after months(?) in the Crossfit gym, it was time for PYC to find a home. A real home. A home where yogis and yoginis all over Prague could come to share their practice, light, and energy.
And so, after many long days of dreaming, planning, and getting covered in paint and construction dust, our first studio came to be in Vinohrady. Just a year later, we opened a second studio in Letna to better serve the ever-growing PYC community.
Since then, PYC has come a long way. We've certified many students in our 200-hour Yoga Teacher Trainings. Like so many others, we've faced a global pandemic that has completely shifted the way we do business, with our regular classes and teacher trainings moving to zoom.
The past year has been a challenge unlike any other. But more than anything, it has shown that Prague Yoga Collective isn't just a yoga studio. It's truly a collective, made up of the yoga community in Prague and beyond. And it's this connection to the global yoga community that finally gave us the push we needed to make our dream of starting an online yoga platform into a reality.
Where we are now: Asana Etc
Asana Etc was created to make yoga and mindfulness accessible to all, no matter where you are in the world. With so much of our lives online, why not share the passion and love of our PYC community with the world? Especially now, when we could all use a little more connection with one another. Asana Etc is our answer to the call.
But, in order to deliver the quality content this community deserves, we needed a team of experts to lift Asana Etc off the ground and into the cybersphere. That's where Juliann and Kuba came in.
Juliann was PYC's first student and is now our behind-the-scenes brand, social media marketing, and web design guru. Kuba is our professional videographer and all-around creative and aesthetic guide, who helped us film our very first online yoga videos after the world went online. Now he's full-time.
Together, we are Asana Etc. And we're on a mission to build a global community of yoga, movement, and mindfulness.
We believe
Yoga is open to all who are willing to try
The mat only requires you to show up and be yourself
Love and kindness is deserved by all
In the power of community
In having soul in all that we create
Our dream
Our dream is to grow Asana Etc into a global community where everyone has access to quality resources that help deepen your yoga, movement, and mindfulness practice. All you have to do is show up and be present.
We offer affordable high-quality videos, digital resources, live events, retreats, and mindfulness programs to make this practice accessible to everyone.
We believe in the power of community. With every step we take, we are building this global community with great care and intentionality — together.
Let us introduce ourselves
Is a modern-day Audrey Hepburn flowing with grace, poise, and badass strength! There is no pose that Betti can't do, and she's even better at teaching others how to do it too! She loves to incorporate her dance background into her yoga practice for a unique twist (pun not intended)
Alex is our handstand & inversion master goddess! She probably spends more time hanging out upside down on her hands than on her feet. She loves to laugh and is always up to help you out in your handstand too! Alex has a great passion for yoga and sharing it with others.
Lisa has traveled the world teaching yoga, and she spreads joy and light wherever she lands. Whenever she teaches, you feel like anything is possible in her classes! She's the one who brought Rocket Yoga into our lives, and we're forever grateful!
He's our mastermind behind all these beautiful videos. He makes us look damn good! We could not live out this dream without his insane skills. Side note: he's a natural at handstands, and we're a little jealous at how easy it came to him.
Juliann is our dreamer but also our doer and the backbone of all the beautiful designs & marketing around everything we do. She's also a badass at yoga, has a passion for the healing powers of essential oils and without her knowledge and expertise, we wouldn't even be halfway to where we are now!