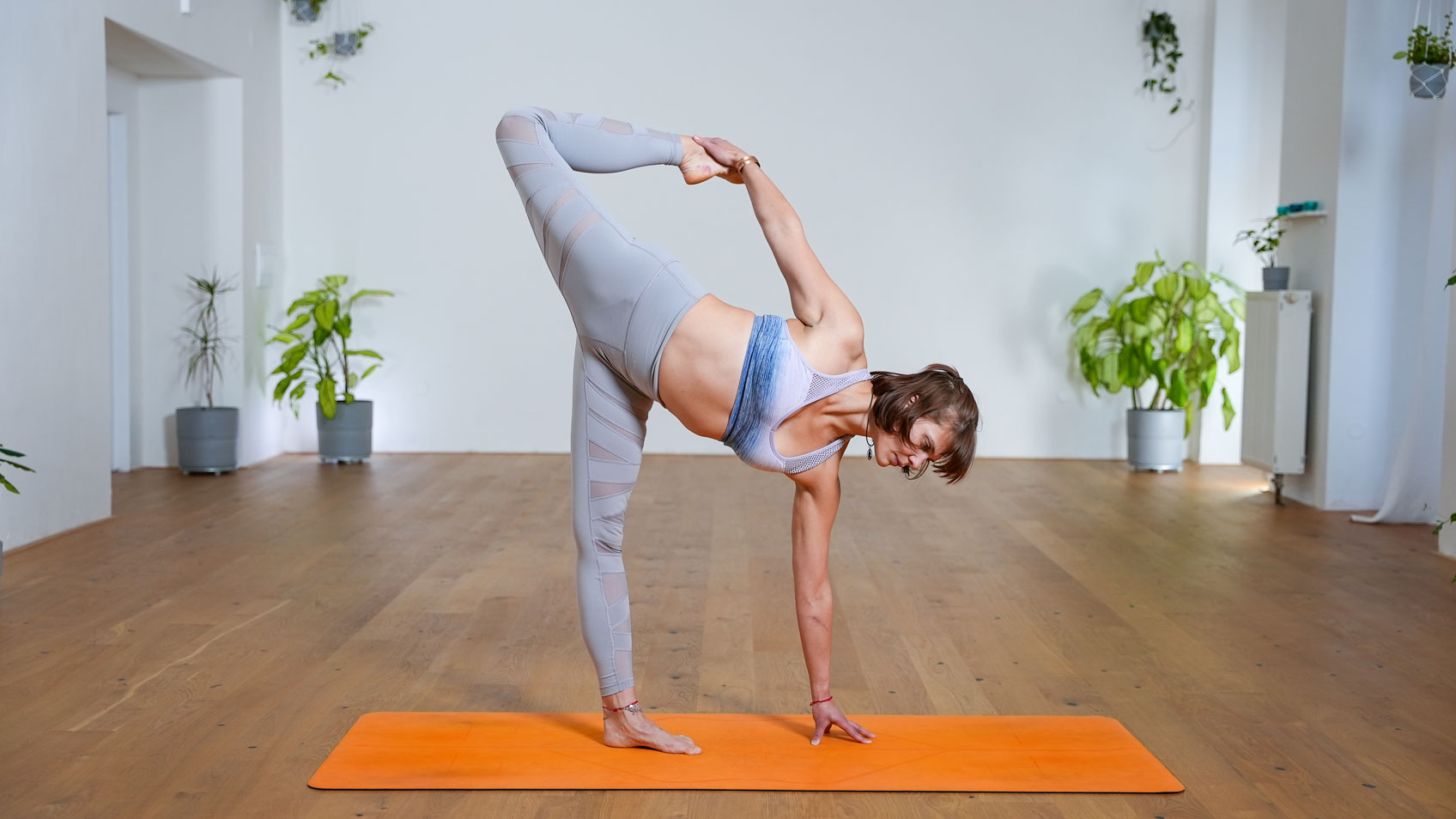 Coming from an athletic background including gymnastics, swimming, horse riding, and rugby, I first discovered yoga at the age of 13. I have experimented with various styles including Hatha, Kundalini, Sivananda, Bikram, Jivamukti, and Ashtanga to name but a few. I finally found my ally in Vinyasa Flow, a fluid style of yoga anchored in linking movement with breath.

In 2009, I completed a 200hr Yoga Alliance International certified teacher training in Vinyasa Flow with Frog Lotus and have been teaching regularly ever since. In 2009, I also discovered Acroyoga, a blend of acrobatics, yoga, and Thai massage. After attending numerous classes, workshops, and immersions across Europe, I finally became the first certified Acroyoga teacher in the Czech Republic in 2013.

I then moved to Australia to continue spreading my passion for this practice in 2013-2014. Over the next couple of years, I continued to teach classes in workshops wherever I travelled to and assist senior teachers at immersions - including India, Germany, Spain, and the Czech Republic. My practice is ever-evolving, inspired by workshops with world-renowned teachers such as David Swenson, Ana Forrest, Jason Nemer, Kathryn Budig, and Simon Park.

My favourite is teaching dynamic vinyasa. My classes incorporate sun salutation variations, standing, balancing, and seated poses, backbends, and, of course, I never forget a little ab work. All that with a touch of humor. My classes enable you to clear your mind and leave feeling energized.

14 Days of Self Love - Day 1 - Sweaty Flow with Annie
Kicking off the 14 Days of Self-Love project with a nice, short, sweaty flow to get the blood moving. This is for all levels, and the main goal is just to move and to have fun! Enjoy! - - - - - - - - - - - - - - - - - - - Stay connected with us! IG: @asana_etc
14 Days of Self Love - Intro with Annie
Welcome to 14 Days of Self Love - enjoy! - - - - - - - - - - - - - - - - - - - Stay connected with us! IG: @asana_etc
14 Days of Self Love - Day 14 - Yoga Nidra with Annie
Welcome to the last day of this 14 Days of Self Love project! On this last day, we invite you to enjoy rest and rejuvenation with some "Yogic Sleep." You can pair this session with any of the other videos that we have shared during this time as it's a lovely addition to any flow. Or maybe you just need the world to stop for a moment and to enjoy some deep stillness. Either way, it's been an honor for all of us to share our self-love practices with you. - - - - - - - - - - - - - - - - - - - Stay connected with us! IG: @asana_etc
Post-Covid Flow with Annie
If you've suffered from Covid and still aren't quite back to your normal yoga strength, then this class is for you! It will help you get back to your mat, move your body, but it won't be too intense as you recover. Of course, even if you haven't had Covid, you can still benefit from and enjoy this class! - - - - - - - - - - - - - - - - - - - Stay connected with us! IG: @asana_etc
Yoga for Your Period with Annie
When it's your time of the month, this is the perfect session to move around a little with some yummy restorative poses and passive stretching. You'll get some movement in your body but still be kind to it as well during this time. - - - - - - - - - - - - - - - - - - - Stay connected with us! IG: @asana_etc
All the Feels Flow with Annie
Get a full body flow on when you want a little bit of everything in your practice in 30 minutes! - - - - - - - - - - - - - - - - - - - Stay connected with us! IG: @asana_etc
Recovery (Post-Covid) Yoga with Annie
If you've suffered from Covid or any other sickness, and you had to abandon your yoga mat for a while, here is a class for you to find your way back to your practice. This class is the second level in our recovery bundle - a little more intense, more energetic. If you feel this is still too much, definitely check out the "Post-Covid Flow with Annie" Level 1 video - - - - - - - - - - - - - - - - - - - - Stay connected with us! IG: @asana_etc
Flow & Nidra with Annie
After a big day when you feel you need to use your muscles, open up those closed joints, but at the same time you don`t want to get too pumped up by your practice - then this class is definitely what you need. The perfect combination of movement and meditation. Annie shares with you a 35-40 minute flow rounded up with a calming 10 minute Yoga Nidra guided meditation. Enjoy! - - - - - - - - - - - - - - - - - - - - Stay connected with us! IG: @asana_etc
Yoga for your period II. with Annie
Some days we feel that we just don`t want to do anything, especially not move our bodies... but at the same time, we know it would feel so much better after a little physical activity. If you are having one of those days, this class is perfect for you. A gentle practice - comfortable positions, soft stretching, meditation, blanket, and pillows - a tender half an hour of self-care. - - - - - - - - - - - - - - - - - - - - Stay connected with us! IG: @asana_etc