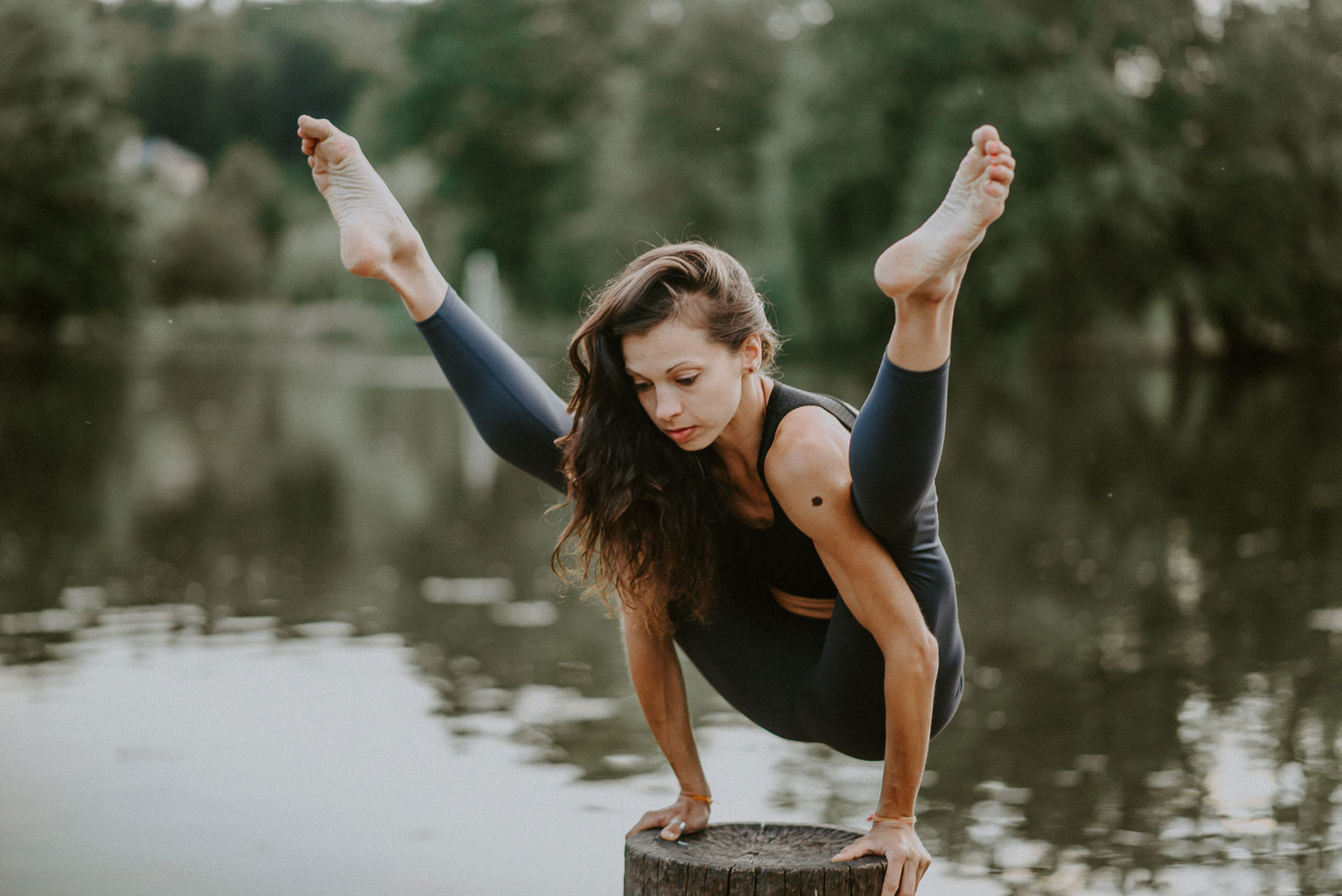 I fell in love with dance back when I was seven years, old and this feeling only continues to grow year after year.

Following my participation in numerous competitions and performances, I received certification in 2008 to perform as a modern dance instructor.

Then, the first I got in touch with yoga was while living in Houston (many years ago now) where I had a chance to learn from an awesome Venezuelan instructor. From that point on I started visiting yoga classes more or less regularly. The "big yoga boom" came into my life after I got injured during a dance class and I turned to hot yoga to cure my torn muscle and to bring back my flexibility. And it worked!! Slowly, step by step, but it worked!

Since then, yoga is an essential element of my life. I was/am discovering multiple branches of yoga – classic Hatha, ashtanga vinyasa, vinyasa flow, acro yoga, and experimenting with dance yoga.

In 2016, I left Prague for a wonderful journey to Asia, which started in India, where I completed my 200 hrs teacher training in Hatha and ashtanga yoga. After the course, during my traveling, I thought in Japan, Taiwan, Vietnam, and Indonesia.

If I want to convince you to take one of my classes and give yoga a try, I would describe its magic as something that can make you feel relaxed and energized at the same time. You are sweating and smiling, getting stronger and more flexible simultaneously. And while becoming aware of the power of your breath, you are discovering unknown dimensions of your own body.

So give it a try!

Backbends Step by Step with Betti
Roll up and down, bend forward and back, rotate your body from side to side - during this beginner level vinyasa flow you will articulate your spine in all directions and also learn safe and proper alignment for fundamental asanas such as cobra, upward facing dog, and Bridge pose. - - - - - - - - - - - - - - - - - - - Stay connected with us! IG: @asana_etc
Intense Hip-Opening Flow with Betti
With long holds and deep stretches you will work on opening and strengthening your body. Approaching the hips from various angles contributes to increase the flexibility and mobility of the pelvis area. - - - - - - - - - - - - - - - - - - - Stay connected with us! IG: @asana_etc
A Quick Ladder to Climb with Betti
Learn as you flow, this intense sequence builds step on step. This ladder works through poses such as wild thing, pistol squat and garudasana. - - - - - - - - - - - - - - - - - - - Stay connected with us! IG: @asana_etc
Full Body Flow with Betti
Enjoy our new full-body vinyasa flow that will leave you glowing afterward. A short flow like this can always be squeezed into your schedule. Find 35 minutes for yourself ;) Let`s roll out our mats together and have fun! - - - - - - - - - - - - - - - - - - - Stay connected with us! IG: @asana_etc
Block Flow with Betti
Three-legged dolphin, baby dragonfly, sleeping eagle...let Betti introduce you to these weird creatures! Sweat, stretch and of course, smile :) - - - - - - - - - - - - - - - - - - - Stay connected with us! IG: @asana_etc
Strength for Yogis with Betti
Today we are not going to flow. Not in this video ;) This lesson is focused on building strength and stamina. Take it as an investment into your practice and let those muscles burn! - - - - - - - - - - - - - - - - - - - Stay connected with us! IG: @asana_etc
Vinyasa with Betti
A bit of balance, a bit of shoulder stability, a bit of core and a lot of deep breaths. Have fun! :) Find balance and consciousness on your mat that you can take with you into your daily life. - - - - - - - - - - - - - - - - - - - Stay connected with us! IG: @asana_etc
Rocket I with Betti
Here comes a Rocket I class with Betti! Lets create some heat together, fight with those warriors, play around with a couple of handstand hops and then choose your favorite version of a closing sequence. It is not the full series, but definitely a full-body experience ;) - - - - - - - - - - - - - - - - - - - Stay connected with us! IG: @asana_etc
Slow but not Soft - Vinyasa Flow with Betti
During this flow you will build closer friendship with your Ardhachandra-asana :) Let this class be an opportunity to bring strength and awareness into your practice. A lot of explanations make this class suitable to those who are at the beginning of their yoga journey and want to make sure their alignment is correct. If you know where you go, during the long holds you have time to really sink into your ujjayi breath - - - - - - - - - - - - - - - - - - - Stay connected with us! IG: @asana_etc
Lunchbreak with Betti
Was there too much going on in the morning and you need to release some tension? Or maybe there is a long afternoon ahead of you? With this level 2 fast-paced vinyasa flow we intend to shake up the body and turn to the physical movement for mental refreshment. - - - - - - - - - - - - - - - - - - - Stay connected with us! IG: @asana_etc
Focus on your Balance with Betti
It is so much fun to experiment with our handstand and various arm balances! But let`s be honest sometimes finding the equilibrium just on our feet can be a challenge. During this lesson, you will learn how to position/distribute your body weight, how to grow taller on your tiptoes and you will challenge your concentration with single-leg balancing asanas. - - - - - - - - - - - - - - - - - - - Stay connected with us! IG: @asana_etc
Challenge Yourself Flow with Betti
If you would like to work on your press up, combine strength and flexibility, challenge your balance, or grab every opportunity to go up-side-down, this flow is designed for you. - - - - - - - - - - - - - - - - - - - Stay connected with us! IG: @asana_etc
Strength, Flexibility, and Balance with Betti
Various arm balances, fun transitions - a challenge for the whole body. During this flow you will work with positions like pincha mayurasana/ forearm stand, flying lizard and grasshopper. - - - - - - - - - - - - - - - - - - - Stay connected with us! IG: @asana_etc
14 Days of Self Love - Day 3 - Dance Yoga Party with Betti & Alex
What is this? Yoga? Dance? Old school jazzercise? Or maybe just a fun little video to move your body, to lift the corners of your mouth, and to learn not to care how it looks. ;) Turn up the volume, sing along with the song, and if your neighbours complain, just invite them over to practice self-love. - - - - - - - - - - - - - - - - - - - Stay connected with us! IG: @asana_etc
Strength for Yogis and Non-Yogis I with Betti
In this series of videos you will have the chance to challenge your strength, improve your stamina and build stronger friendship with your beautiful muscles :) This episode focuses on the lower body - - - - - - - - - - - - - - - - - - - Stay connected with us! IG: @asana_etc
Strength for Yogis and Non-Yogis II with Betti
In this series of videos you will have the chance to challenge your strength, improve your stamina and build stronger friendship with your beautiful muscles :) This episode focuses on the core muscles. - - - - - - - - - - - - - - - - - - - Stay connected with us! IG: @asana_etc
Reverse Flow with Betti
Give your brain a little bit of a twist with this irregular Vinyasa class! We learn as we go, building up the flow from the ground all the way up to fly. But the journey doesn`t finish here, with full concentration we deconstruct our sequence to return to the same place where we came from. - - - - - - - - - - - - - - - - - - - Stay connected with us! IG: @asana_etc
Vinyasa Flow with Betti
A shorter flow, but no less fun or effective. This class consists of three different "blocks" that we will then put all together for a nice rounded flow in the end. Enjoy! - - - - - - - - - - - - - - - - - - - Stay connected with us! IG: @asana_etc
Break from Work Series - Spine with Betti
During this episode of our Break from Work series you will have the opportunity to shake up your body through movements targeting mainly the upper body. Rolls and twists focused on articulating the spinal cord and strengthening the muscles of the torso. - - - - - - - - - - - - - - - - - - - Stay connected with us! IG: @asana_etc
Blissful Morning with Betti
Start your day with this gradually built, dynamic class. You will nurture that morning body step by step into a strong vinyasa flow, so when you leave your mat after this 45 minute practice you will feel empowered, energized, ready for the day :) - - - - - - - - - - - - - - - - - - - Stay connected with us! IG: @asana_etc
Break from Work Series - Lower Body with Betti
During this episode of our Break from work series we will focus on boosting the blood flow in the lower part of the torso and the legs.This class includes repetitive movements targeting the abdominal muscles, quads and hamstrings. You can be sure that after this lesson you will return to work with a refreshed, energized (perhaps a little sweaty) body :) - - - - - - - - - - - - - - - - - - - Stay connected with us! IG: @asana_etc
Mix & Match Bundle: Short Flow for Shoulder Strength
This flow is part of the "Mix&Match" bundle. It is a well-rounded, short class on its own in case you have only 20 minutes for your practice today. If you have more time, check out the other classes in the Mix&Match group. Combine this class with any (or all ;) ) other videos from that group. During this lesson your shoulder strength and stability is in the spotlight* - - - - - - - - - - - - - - - - - - - Stay connected with us! IG: @asana_etc
Mix & Match Bundle: Short Practice for your Abs with Betti
This flow is part of the "Mix&Match" bundle. It is a well-rounded, short class on its own in case you have only 20 minutes for your practice today. If you have more time, check out the other classes in the Mix&Match group. Combine this class with any (or all ;) ) other videos from that group. This lesson is focused on creating a little bit of heat in the abdominal area. - - - - - - - - - - - - - - - - - - - Stay connected with us! IG: @asana_etc
Mix & Match bundle: Short Full Body Vinyasa Flow with Betti
This flow is part of the "Mix&Match" bundle. It is a well-rounded, short class on its own in case you have only 20 minutes for your practice today, but if you have more time, check out the other classes in the Mix&Match group, and combine this class with any (or all!) other classes from that group. This lesson is focused on a full-body flow to get you moving! ;) - - - - - - - - - - - - - - - - - - - Stay connected with us! IG: @asana_etc