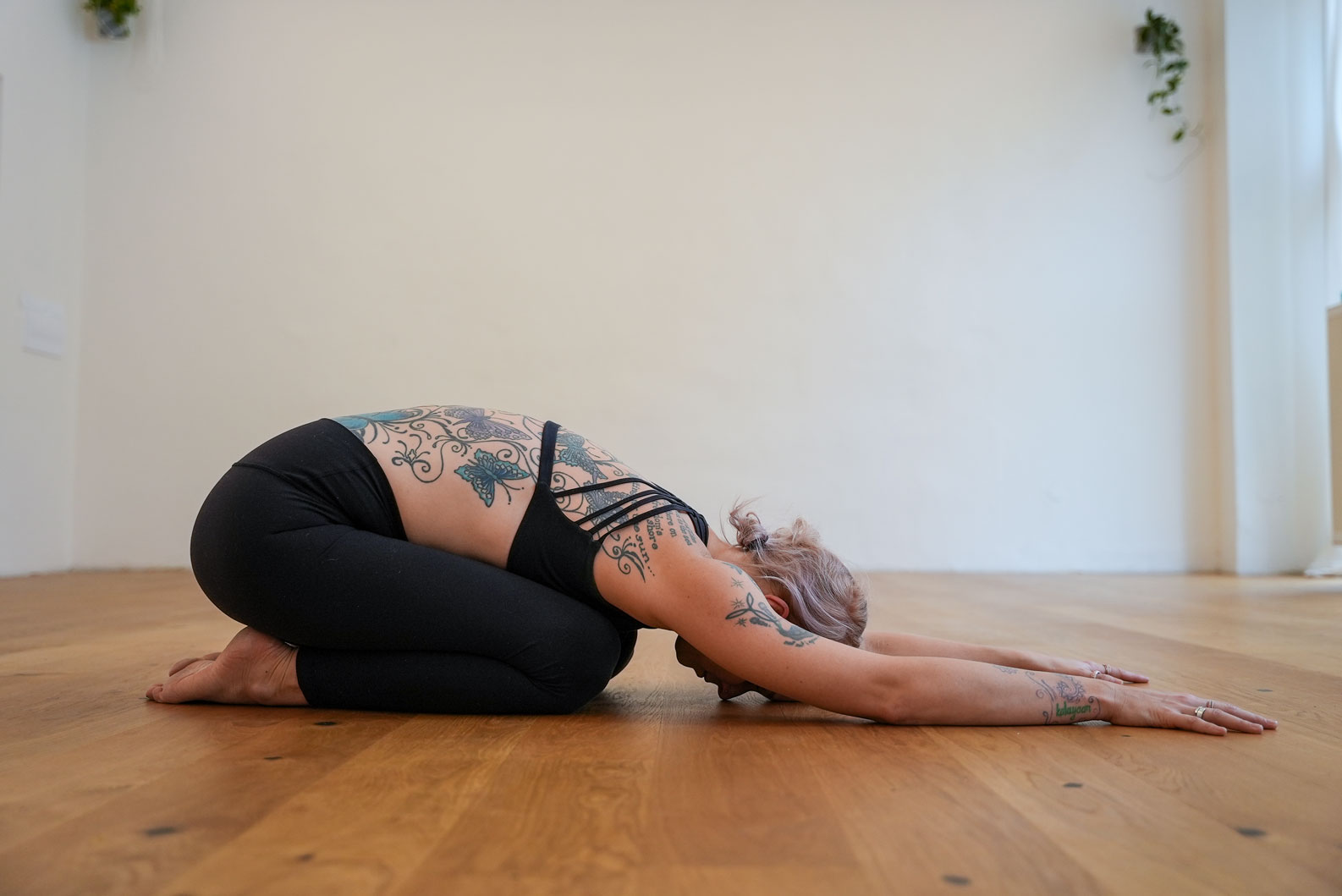 I love yoga. All types of yoga!

I was introduced to Hot Yoga back in 2005. Ever since then, I have been on my yoga journey, and it has taken me around the world and back. I've never committed to one single practice, but have tried out and trained in different practices to broaden my teaching skills and deepen my own personal practice.

I first trained in the Indian Himalayas and completed my first 200hr teacher training in traditional Hatha Yoga. Since then I have completed teacher trainings in AcroYoga, Vinyasa Flow, Ashtanga Vinyasa, Pre/Post-Natal/Baby, and Hot Yoga. I am also trained in Partner Acrobatics, Flying Therapeutics, and Thai massage.

I love travelling and yoga has given me the privilege to take my teaching with me and work all over the world. Most recently I lived and taught in the UK, Ireland, and the Philippines, and have travelled in between teaching workshops in places like Sweden, Indonesia, East Timor, Turkey, Vietnam, Norway, Thailand, and Spain. I currently live in Prague and am co-founder of Prague Yoga Collective and Asana Etc.

I teach with a strong focus on the connection between breath and alignment, as our physical form is nothing without the support of our breath.

Except for yoga, I am a passionate, barefoot-running, fun-loving mother of two (Phineas, born in 2016, and Avi, born in 2019), who loves eating vegan food, getting up at 5 am for morning practice, and rainy, cold, autumn days.

Slow it Down with Lisa
Join Lisa for a slower vinyasa class. This class will still get your body working but we'll move a bit slower to get deeper into the postures and breathe a bit longer as we go. - - - - - - - - - - - - - - - - - - - Stay connected with us! IG: @asana_etc
Go with the Flow with Lisa
Enjoy a strong and sweaty, yet with easy accessible movements with Lisa. Take your time getting into the movements and and connecting with your breath as well as getting your heart rate up. - - - - - - - - - - - - - - - - - - - Stay connected with us! IG: @asana_etc
Fast & Fun Bottle Rocket with Lisa
Prepare for a quick, fun & fast bottle rocket to get your heart rate going and your sweat flowing. Perfect for a day when you don't have so much time for a longer practice and just want to get your blood pumping. If you want to go upside down, follow Alex's lead and if you need more modifications, just have a look at Lisa. - - - - - - - - - - - - - - - - - - - Stay connected with us! IG: @asana_etc
Open Your Hips with Lisa
Sweaty but sweet hip-opening vinyasa class! We'll move in and out of postures to open the hips in all directions. Working on our Hanumanasana as well as staying with our breath both in movement and in stillness. - - - - - - - - - - - - - - - - - - - Stay connected with us! IG: @asana_etc
Backbends and Strength with Lisa
Join Lisa in this strong and flowy, backbend vinyasa flow. Building up the heat with movement and breath we'll work through both strength work and going deeper into our backbends, but with a gentler approach. Go as deep as you like and prepare to sweat as well. - - - - - - - - - - - - - - - - - - - Stay connected with us! IG: @asana_etc
Sweaty Sun Salutations with Lisa
Quick and effective. Let your heart rate elevate during this intense practice where Lisa offers multiple creative options on how to pump up your Sun Sals ;) - - - - - - - - - - - - - - - - - - - Stay connected with us! IG: @asana_etc
Gentle Flow with Lisa
Enjoy a slower/gentler, but still a strong practice with Lisa! This class might be a good opportunity to invite your friend/mom/neighbor who is new to yoga to try it out. - - - - - - - - - - - - - - - - - - - Stay connected with us! IG: @asana_etc
Rocket Blast Off with Lisa
Enjoy this fast-paced Bottle Rocket class with Lisa -"stick with us, fly with us, do your best" ❤️ - - - - - - - - - - - - - - - - - - - Stay connected with us! IG: @asana_etc
Rocket I with Lisa
Here is your classic Rocket Yoga class with Lisa, because you can never get enough of rocket, right? Plenty of opportunities to go upside down - feel free to sprinkle in your handstands, press-ups, forearm stands and headstands! Have fun ;) - - - - - - - - - - - - - - - - - - - Stay connected with us! IG: @asana_etc
Strong Flow with Lisa
Join Lisa for a strong and sweaty flow. Just roll out your mat and let her guide you through some good shoulder strength and some good old classic yoga asanas. - - - - - - - - - - - - - - - - - - - Stay connected with us! IG: @asana_etc
Tigercurl to Stepping Forward with Lisa
Learn how to get out of cheating your foot to the top of the mat and instead properly engage you bandhas and shoulders towards a controlled, slow forward step. We use a block or something similar looking rom your home. - - - - - - - - - - - - - - - - - - - Stay connected with us! IG: @asana_etc
Tutorial: How to Lift your Bottom (and maybe even your legs!) with Lisa
Using props is a great way to learn how to engage and find our Mula Bandha properly. By giving yourself a bit of height we can fly a little higher and find our confidence first. Let Lisa show you how to do it. - - - - - - - - - - - - - - - - - - - Stay connected with us! IG: @asana_etc
How to do Bakasana/Crow Pose with Props
Bakasana feeling a bit scary still? Watch this little tips & tricks video to learn how to prop yourself us with a block or something similar to protect you from falling forward when learning how to lift your legs into Bakasana - Crow pose. - - - - - - - - - - - - - - - - - - - Stay connected with us! IG: @asana_etc
Prop Yourself up to Protect your Knees with Lisa
Do your knees hurt in Supta Virasana or Trianga Mukha Eka Pada Paschimotthanasana? Does that sound like a lot already? Don't worry if you don't know the Sanskrit, but do take precaution if you've got pain in the knees in certain poses. Lisa will show you how to safely use a block (or anything similar from your home) to protect those precious knee joints in your practice. - - - - - - - - - - - - - - - - - - - Stay connected with us! IG: @asana_etc
Short & Sweet Shoulder Release I (to Relieve Office Posture) with Lisa
Take a couple of minutes break from sitting in front of your laptop to do some yummy & lengthening shoulder release and forward folding. It'll leave you re-energized if you need to get back to your desk or just continue on with your day. - - - - - - - - - - - - - - - - - - - Stay connected with us! IG: @asana_etc
Short & Sweet Shoulder Release II (to Relieve Office Posture) with Lisa
Take a couple of minutes break from sitting in front of your laptop to do some yummy & lengthening shoulder release and forward folding. It'll leave you re-energized if you need to get back to your desk or just continue on with your day. - - - - - - - - - - - - - - - - - - - Stay connected with us! IG: @asana_etc
Surya Namaskar A & B with Lisa
Start your day right with 15 minutes of Sun-Sulatation A & B. Lisa will guide you through and energize you for your day ahead! - - - - - - - - - - - - - - - - - - - Stay connected with us! IG: @asana_etc
Prenatal Yoga with Lisa
Join Lisa for a longer, quite strong, but mindful vinyasa class designed for doing while pregnant. Honestly tho, it can also be a nice practice for postpartum or if you're on a journey trying to conceive too. Be mindful with yourself, remember to breathe and take rest appropriately and if it doesn't feel good, it probably isn't great to push. We promise you a nice long practice for yourself and connection with baby and breath at the same time. - - - - - - - - - - - - - - - - - - - Stay connected with us! IG: @asana_etc
Intro to Prenatal Yoga with Lisa
Let's talk a little about prenatal yoga before we get into the other videos and how it can be beneficial in your journey. - - - - - - - - - - - - - - - - - - - Stay connected with us! IG: @asana_etc
14 Days of Self Love - Day 11 - Essential Oil Grounding Flow with Vinuta & Lisa
One of the best combinations in life is a nice yoga flow with essential oils, wouldn't you agree? So grab your favorite oil (an earthy, grounding oil is best for this flow such as sandalwood, lavender, cedarwood, balsam fir, copaiba, cypress, etc) and enjoy this short flow that will surely reset your day and bring you into the present moment for a little break. If you don't have any oils, don't worry. Maybe you have some palo santo or even a candle. No matter what, you can still enjoy the flow :) - - - - - - - - - - - - - - - - - - - Stay connected with us! IG: @asana_etc
A few Gentle Pre/Post Natal Yoga Poses with Lisa
In this video Lisa will show you a few gentle Pre Natal yoga poses you can do on your own, all together or each one on its own when you need it during your pregnancy. This is not a class per se, but an explanation and showing of a few poses that can be very helpful to keep in your toolbox during pregnancy and even postpartum. - - - - - - - - - - - - - - - - - - - Stay connected with us! IG: @asana_etc
Gentle & Restorative Yoga with Lisa
Take a moment out of your day to allow some calm into your life. Moving through a series of postures in a gentle and restorative manner will re-energize and re-center us for the rest of our day or even be a lovely way to prepare us for sleep in the evening. Grab a bolster or anything similar and enjoy. - - - - - - - - - - - - - - - - - - - Stay connected with us! Instagram: @asana_etc
Mini Flow with Lisa
Need to breathe deeper and release some tension? Take this little mini flow with Lisa to get your blood flowing and your breath going a bit deeper and stronger. - - - - - - - - - - - - - - - - - - - Stay connected with us! IG: @asana_etc
Shoulder-Free Sun Salutations with Lisa
Love doing Sun A's & B's but it's just a little much on your shoulders? Here are some options for you. Enjoy! - - - - - - - - - - - - - - - - - - - Stay connected with us! IG: @asana_etc
Break From Work Series - Office Release Flow with Lisa
Join Lisa for a short but sweet practice to release your shoulders and back-body from office/desk work. You don't even need your yoga-pants for this one! - - - - - - - - - - - - - - - - - - - Stay connected with us! IG: @asana_etc
Shoulder-Free Flow with Lisa
Tired of chaturangas? Take this class with Lisa and get your blood pumping with minimal use of the shoulders and upper arms. - - - - - - - - - - - - - - - - - - - Stay connected with us! IG: @asana_etc
Break from Work Series - Short Flow ​with Lisa
Take a small break from whatever you're doing to step on your mat, get grounded, and be present. - - - - - - - - - - - - - - - - - - - Stay connected with us! IG: @asana_etc
Focus on your core with Lisa
All about the core! In this short video, you will go through a couple of abdominal practices. Lisa will help you wake up your inner fire, your "agni". With her guidance, you will access the deep abdominal muscles safely and effectively without hurting your lower back. Feel free to do more repetition of all the exercises to let those abs burn :) - - - - - - - - - - - - - - - - - - - - Stay connected with us! IG: @asana_etc